Former Tennis Australia board member Harold Mitchell insulted executives at the tennis body, telling them they should lose their job if they didn't do a deal with Seven West Media to broadcast the Australian Open for five years.
The sensational allegations were aired at the Federal Court during the civil penalty case brought against Mr Mitchell and the former president of the tennis association, Stephen Healy, by the corporate watchdog.
Former Tennis Australia president Stephen Healy outside the Federal Court on Monday.Credit:Eamon Gallagher
The Australian Securities and Investments Commission has accused Mr Mitchell and Mr Healy of breaching their duties by inappropriately helping Seven to win the tennis rights over other potential bidders. Both men are vigorously defending themselves against the allegations.
Seven secured the rights to broadcast the Open in 2013 for $195 million. Nine, the owner of this masthead, is the current owner of the rights.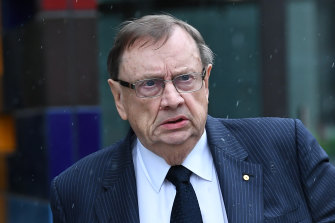 Former Tennis Australia director Harold Mitchell leaves the Federal Court in November.Credit:AAP
Mr Healy said he was not aware that Mr Mitchell had made such comments and if he had been aware at the time he would have spoken with Mr Mitchell.
The court also heard that Mr Mitchell was dismissive of approaches from IMG and Nine Entertainment during the 2012 negotiations for the rights to broadcast the Australian Open, the tennis body's former president Steve Healy has told the court.
Mr Healy also revealed that after he found out Channel 10 had made an offer for the rights, he did not seek any information about how much the network had bid for the five-year rights to broadcast the top tennis tournament.
During cross examination, Mr Pearce asked Mr Healy if he knew Mr Mitchell's opinions on IMG included that its bid was too conditional and that IMG had been "naughty" and "cannot be trusted".
"Yes, he said that" Mr Healy said.
Mr Pearce then asked: "Did you ask him why not?"
Mr Healy responded: "They'll just sell it on for the highest price."
Mr Healy was also asked about Mr Mitchell's opinion of Nine, which had made an approach to Tennis Australia to flag its interest in the rights negotiations.
"That was again dismissed by Mr Mitchell wasn't it?" Mr Pearce said.
Mr Healy responded: "He made the comment they had the cricket."
Mr Healy said Mr Wood had told him the IMG offer was simply being used as leverage to drive a bigger offer from Seven. He also said he never discounted a separate offer from Network 10, despite that broadcaster's financial issues.
However, Mr Healy told the court that despite being informed about Ten's interest by Mr Wood, he never asked Mr Wood for more details because the offer was made during a six-month period when Tennis Australia was in an exclusive negotiating period with Seven.
"It's very hard to believe that at the end of this process, you've got an offer from IMG and you've got an offer from Seven, interest from 10." Mr Pearce said.
"It's very hard to believe Mr Healy that you didn't seek to find out what they would pay," Mr Pearce added.
Source:
Read Full Article