Diversified developer Stockland's chief has tipped a growth rate of between 5 and 7 per cent in house prices in the coming year as the residential market roars back to life.
Mark Steinert, the chief executive of the country's biggest house and mixed use communities developer, said the recovery is "in full swing", based on lower interest rates and an easing on loan restrictions by lenders.
"Credit conditions are improving and we are seeing about half of our customers are first home buyers," Mr Steinert said.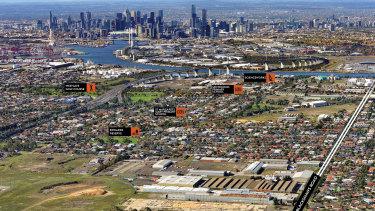 Stockland has added 210 lots to its Altona North townhome project.
"These buyers are continuing to be the most active part of the market as affordability improves."
Stockland develops large community sites with schools and child care nearby.
Mr Steinert said household spending is balanced with not as many willing to take on too much debt.
Craig James, the chief economist of CommSec, said the quarterly national accounts from the Australian Bureau of Statistics show household incomes spiked higher in the September quarter due to the tax cuts being paid.
Credit conditions are improving and we are seeing about half of our customers are first home buyers.
"And consumers promptly saved most of it. Many families needed to, because up to then, many families were running down savings so they could maintain spending. The question is whether the 'saving' was just a strategic decision, awaiting the sales events in November and early December," Mr James said.
"Consumers have welcomed the tax cuts and interest rate cuts as the measures have allowed people to rebuild savings without sacrificing their standard of living in a significant way.
"Aussies have saved, not spent, the tax cuts – at least so far. Anecdotal evidence suggests that some of the dollars were spent at recent sales events."
Mr James said the performance of consumer spending will be important for future decisions on fiscal and monetary stimulus.
The positive outlook has been reinforced by the weekend's auction clearance rates in Sydney of 79 per cent, a 47 per cent rise on the same time last year, In Melbourne it was 74 per cent, up 45 per cent on the previous corresponding period.
Mr Steinert said in NSW, developers welcomed the focus by the government on planning reforms, particularly in the so-called middle ring of Sydney around the Olympic Park zone.
"With the forecast rise in population, it is important to get sustainable growth in transport and infrastructure," Mr Steinert said.
He said Stockland will focus on re-stocking land in Sydney and Melbourne in the coming year.
Saranga Ranasinghe, a Moody's Vice President and Senior Analyst said the ratings agency expects residential construction – as reflected by housing starts – to remain soft, "although property prices and demand have started increasing again following price corrections in Sydney and Melbourne".
Stockland also got the green light during the week for Stage 1 of the $500 million M_Park development at Macquarie Park in Sydney.
Stockland will develop a new commercial precinct across a three hectare site integrating state-of-the-art office, co-working, retail and conference facilities. The first stage of development is expected to commence mid to late 2020 and will include 18,000 square metres of office and 296 secure basement car spaces.
Stockland group executive and chief executive of commercial property, Louise Mason, said the approval of the development project in the heart of Macquarie Park, was another important step in the progress of Stockland's $2.5 billion workplace and logistics development pipeline.
"This project is a key part of our strategy to grow our workplace and logistics exposure through development opportunities across existing properties and strategic acquisitions," Ms Mason said.
Source:
Read Full Article