The head of Australia's peak industry body has warned high-end and discretionary retailers will be the hardest hit from plunging foot traffic and supply chain issues caused by the coronavirus, resulting in an "abject" performance for the struggling sector over the next two months.
On Friday, trade data from the Australian Bureau of Statistics (ABS) revealed the retail sector had experienced its worst-ever December-January trade period, with sales for January dropping 0.3 per cent against expectations of no decline.
"Let's be honest about it. The numbers are not good and I can't see February being anything fantastic at the moment because that was the start of the coronavirus," Russell Zimmerman, executive director of the Australian Retailers Association told The Age and The Sydney Morning Herald.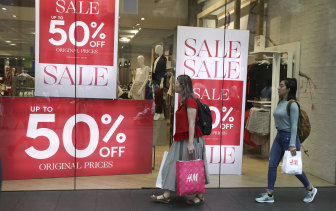 Retail industry bodies have warned of a double-whammy effect as supply delays and concerned consumers hurt merchants.Credit:Ben Rushton
The ABS said the coronavirus was expected to impact retail trade in coming months following a warning from economists at the National Australia Bank and Commonwealth Bank that the virus would "weigh significantly on aggregate demand" for February and March.
'It's going to be a very poor first half of the year for retailers," CBA senior economist Gareth Aird said. "And this is when they were already struggling anyway."
Mr Zimmerman said retailers were not only struggling to get stock from China but had also seen plunging foot traffic as concerned shoppers stayed home.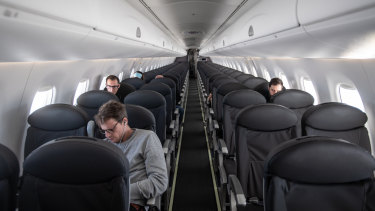 An almost empty British Airways plane flies from Milan to London.Credit:Getty
Major airline Qantas was forced to slash flights both internationally and domestically in response to reduced air travel demand, warning investors the coronavirus could cost the company up to $150 million. Globally, the virus is estimated to cost airlines $170 billion.
Similarly, listed travel agent Flight Centre was forced to cut its full-year profit guidance by $70 million as a number of customers cancelled or postponed trips.
UBS analyst Ben Gilbert said companies with a high private-label mix and stock replenishment cycles would likely be hurt the most, pointing to retailers such as Kogan, Adairs and Solomon Lew's Premier Investments as examples.
However, it's not doom and gloom for the whole retail sector, with food retailers such as Coles and Woolworths likely to see a lift in third-quarter sales due to coronavirus-induced panic buying of toilet paper, rice, and pasta.
Mr Aird was predicting a "little bounce" in March trade figures from the stockpiling but warned would not be a net gain to overall sales.
"All that is is a pull-forward of what would have been spent further down the line anyway. It's not like you're using more toilet paper," he said.
Source:
Read Full Article